Sipora Island in Mentawai District, West Sumatra
---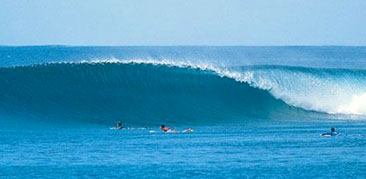 Being a recommended tourist destination in West Sumatra, Mentawai Islands never fail to amaze visitors. The prime reason to visit it is the options of beautiful islands for tourists to explore. One of them is called Sipora and it is considered as the smallest one. Despite the small size, the island has a strategic location so everyone can reach it without hassle (especially by boat). The location is between Siberut and Pagai Island and it becomes the home of the capital of Mentawai District namely Tua Pejat City.
The Nuance 
As mentioned before, Sipora Island is small when it comes to size as compared to other islands of Mentawai. The size is around 845 km per square and it consists of mostly natural landscapes. For instance, the island is covered by approximately 15% of rain forests and pristine nature. As for the villagers, they work as either a farmer or fisherman. That means tourists might find several local houses located near to the beach and some boats there.
Exploring Sipora Island
Today, Sipora becomes the main destination for those who are visiting Mentawai Island. No wonder, it offers several interesting tourist spots and perfect surfing areas. That means Sipora is well-known among those who love surfing and other water sports. The fact is that the beaches in the island would be crowded between April and October when the waves are the best. Still, other months are also suitable to enjoy surfing. It is safe to say that Sipora offers a perfect condition for surfers and tourists as the waves seem nice throughout the year. Even beginners can enjoy good times there as long as they know the basics and get some tips from the locals.
For those looking for good surfing spots, some options are available including Lance's Left and Hollow Trees (known for their famous cylinder waves called the right tube). However, it is not recommended for beginners as the wave is considered dangerous.Well, it would be simpler if tourists ask for further information from their tour agent. The other options are Iceland, Telescope, and Scarecrows which are also recommended to enjoy surfing.
Apart from surfing, Sipora Island also offers other attractions including the local foods. For example, there is one called Subbet (snacks made of taro and grated coconut). It is cheap and tasty so tourists should try some when visiting Sipora. Next, they can meet Mentawai Tribe and learn some culture and local dances there. Those people are friendly, after all. That means it won't be difficult to approach them.
Nearby Attractions
Siberut Island
North Pagai Island
How to Get There
Some tourists say it is hard to reach the Mentawai Islands. Well, it is not true as long as they know the right transportation service to use. From Padang (Muara Port), they can ride a boat and head to Sipura right away. Once they reach Tua Pejat City or the capital of Mentawai District, they can choose a particular spot for surfing or nearby accommodations.
Where to Stay
Hollow Trees Resort
Kingfisher Bay Resort
Togat Nusa Surfing Retreat Resort
Aloita Surf Resort

Latest News
What do tourists know about Bukittinggi City? Well, most of them recognize it as the capital of West Sumatra Province belongs to Indonesia. Some of them are even aware of its tourism potential, so they keep coming to the region over time, especially during long holidays. Not only it becomes the governmental center of West Sumatra, the city was once the capital of West Sumatra and Sumatra Province! Moreover, in the past, it was called Fort de Kock and known as the birthplace of a famous person named Mohammad Hatta…
---
  Langkisau peak tourism object is located at the edge of the koto Painan with a height of about 500 meters above sea level and it offers an inspiring beauty. Langkisau peak is an area of excellent Pessel which have tourism potential that should be developed, because this area is at a height so that people who visit will be able to see the beautiful scenery and fascinating about the city Painan and Sago District IV of Jurai. At night, will be more lively enchanted by beautiful night scenery that…
---
  Siberut Island Becomes part of Mentawai Islands, Siberut is the largest island at the northernmost and becomes the main important island for Mentawai People.  The Mentawai tribe still maintains the lifestyle and traditions passed down from their ancestors from thousands of years ago. They live in houses locally called 'uma', made from wooden scaffolds which house contains several families each. Siberut is located in the Indian Ocean, approximately 100 km off the west coast of West Sumatra, and separated from the main island by the Mentawai Strait. The island…
---
Sawahlunto is one of provinces in Indonesia, precisely in West Sumatera, Indonesia. This town is located in 95KM Northeast of Padang and surrounded by 3 districts in West Sumatera, which is Tanah Datar, Solok and Sijunjung. Sawahlunto is divided into 4 sub-districts and it has 273,45 km², with populated by 54.000 people. During Dutch civilization, Sawahlunto was popular as coal mining town. After being a death town, during the closing of the mining, Sawahlunto nowadays becomes the growing city with multi-ethnicity inside the community, and awarded as the best old…
---