Kulukubuk Waterfall in Madobal Village, Siberut Island, Mentawai
---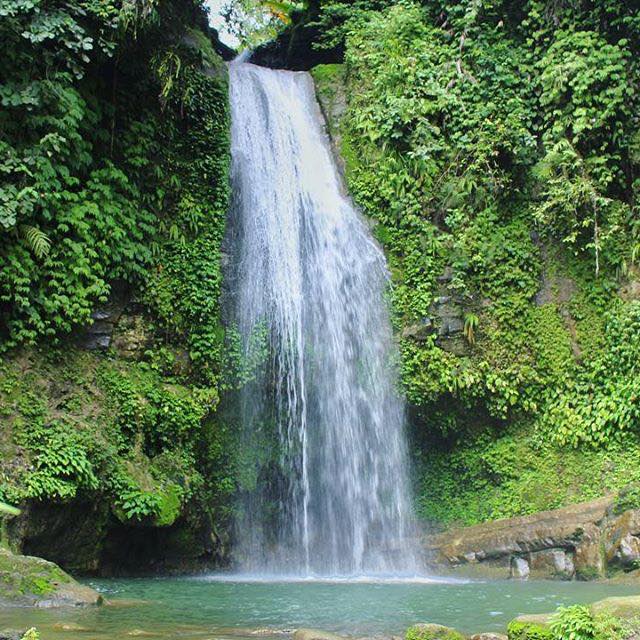 For those visiting the Mentawai Islands, Siberut should be one of the best vacation destinations to visit. Not only it is famous for its nature conservation, but it is also the home of local waterfalls especially Kulukubuk. Such beautiful waterfall is located in Madobal Village and it belongs to South Siberut Sub-District. The distance is only 3 km from the local settlement so it is considered easy to reach, even among first timers. Being one of the most recommended tourist spots in Mentawai, the waterfall gets more famous over time. Another reason is that the locals often help visitors to get to the falls and provide some good services to them.
The Nuance
Like its sibling, Singunung, Kulukubuk Waterfall offers a comfortable and fresh atmosphere to visitors. However, it only has two levels instead of three as compared to Singunung. The height is approximately 70 meters and it features a refreshing nature pool on which tourists can get in. No wonder, both the locals and tourists take advantage of that tourist spot to take a bath and swimming. Some of them visit the falls to do photography and simply enjoy the nature, as well. Surrounded by lush nature, it helps everyone to eradicate stresses in an instant!
Exploring Kulukubuk Waterfall
The main charm of Kulukubuk Waterfall is its location, which resides in the midst of a forest. This explains why the atmosphere is quite peaceful and relaxing. Some leaves fall beautifully into the pool, creating a solemn nuance there. Have no worries. It resides near to a local settlement so tourists are able to ask for assistance when they need something. What they must consider are only the clothes. It is without a doubt they are going to get wet when playing around in the location. With this reason, they must prepare extra clothes beforehand.
Taking a bath in a natural pool is quite recommended, especially for those who look for a method to get rid of their stresses. The water is clean and fresh so it helps everyone to relax. The thing is it can be quite cold in the morning. As for the tip, tourists should come to the location either at noon or in the afternoon. At those times, the water feels more comfortable or soothing. It is allowed to carry snacks and drinks but visitors must take care of the trash afterward.
Even though it is safe to play in Kulukubuk Waterfall, tourists should pay attention to several things. For example, they need to come in the best weather. Rain is always troublesome when it comes to a vacation so everyone should avoid coming during the rainy season. Hiring a tour guide is recommended, especially for first timers. Though, it may cost some money.
Nearby Attractions
Singunung Waterfall
Katurei Bay
Siberut National Park
How to Get There
A trip to Madobak Village takes about 3-4 hours from Tua Pejat. Tourists even need to pass through Rereget River and ride a boat to reach the village. Once they get to Madobak, the next destination is the waterfall and they can reach it by foot.
Where to Stay