Nyangnyang Beach in South Siberut, Mentawai Archipelago
---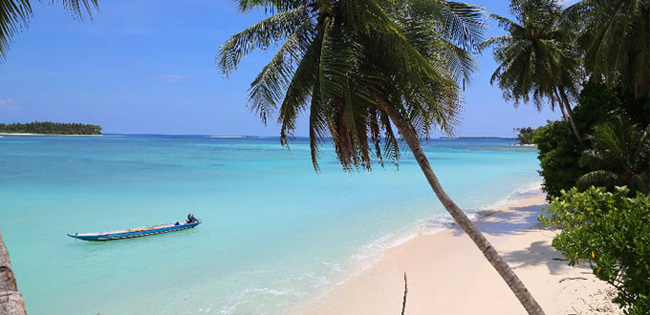 Siberut is one of the islands in Mentawai District, West Sumatra Province. It is also chosen as one of the best surfing spot destinations in that region. For instance, there is South Siberut Sub-District which is famous for its Nyangnyang Beach. The rumor has it. The beach owns the biggest wave in Mentawai, which is perfect for surfers who love a new challenge. This explains why more foreign surfers come to South Siberut as they want to enjoy such daring water sport. Still, the beach offers more than amazing waves! What are they?
The Nuance
In term of size, South Siberut is not quite big. Nyangnyang Beach is not an exception actually. Despite the fact, the beach has a peaceful ambiance which is even better than other beaches in Mentawai. Not many trees grow in that location and the sand is flawless! It feels great walking on the beach and enjoying the zephyr. Even the atmosphere feels so comfortable at noon. For surfers, the waves look both beautiful and challenging. Not to mention the sizes would definitely amuse them. Moreover, the color of the water is quite clear and it feels so warm.
Exploring Nyangnyang Beach
With great waves and beautiful nature, Nyangnyang Beach becomes one of the best beaches to visit in Mentawai. It is usually crowded during holidays or special events done by the locals. Some foreigners are also seen sometimes. They come with their friends and enjoy the waves passionately. No wonder, it is said the waves can reach up to 3-4 meters! According to the locals, those wonderful waves usually occur in the mid-year. At the time, local boats won't operate so what tourists can find is only the formation of waves! It is an opportunity to try such challenging experience.
The locals call foreign surfers with a unique name, which is "Bule". Despite the difference in culture, the locals and foreigners share the same hobby which is surfing. Surfing in Nyangnyang Beach is an option for common tourists but it becomes a must for passionate surfers. Even though the beach is not as crowded as that of Pagai and Karamajat Island, it keeps luring new surfers who want to try a new challenge there. It doesn't matter whether they carry their own surfing board or rent it from the locals. What they need is only some skills and passion.
In order to spend a great holiday in Nyangnyang Island, tourists should consider staying for a week. Have no worries. Some locals offer rooms to tourists with an affordable price. Despite lacking facilities, local houses are worth to rent so everyone can experience a sensation of a local life. It is also possible to try some local foods and enjoy unique dances in nearby villages, in fact.
Nearby Attractions
Siberut National Park
Sipora Island
Sikakap Island
Awera Island
Karoniki Beach
How to Get There
Being the part of South Siberut Sub-District, Nyangnyang Beach is easy to reach from Tua Pejat City. A small boat may take tourists to the location and it takes about 1-2 hours. The thing is everyone should pay attention to the condition of the weather. During the high tide, the trip might take longer than usual.
Where to Stay
Syahruddin Hotel
Mentawai Surf Camp
Umma Maonu