Siberut National Park in Mentawai District, West Sumatra Province
---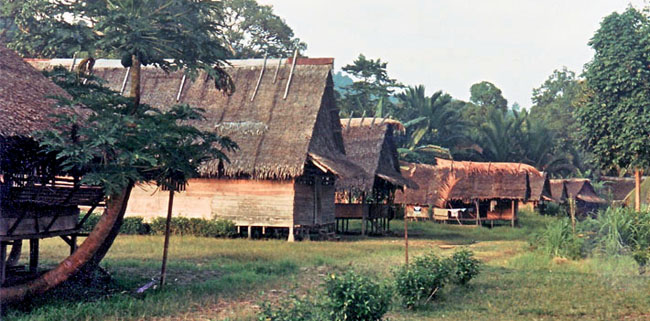 Siberut Island is part of Mentawai District and it becomes the home of a famous nature conservation called Siberut National Park. The distance is about 155 km from Padang City (the capital of West Sumatra Province. It is chosen as a recommended vacation destination, especially those who are interested in animals and plants. As the name suggests, the park is covered mostly by forests including mangroves and swamps. With an unspoiled nature and numerous types of living beings, the park keeps luring more tourists as the time goes by. No wonder, Mentawai earns more popularity over time. Thanks to Siberut National Park.
The Nuance
In term of size, the park has the total size of about 1,906 km2. The fact is that it also belongs to the World Network of Biosphere Reserves. It consists of unspoiled forests featuring giant trees (having the height of about 60 meters). Not to mention it becomes the home of rare exotic animals and plants. On top of that, some indigenous people or Mentawai Tribe lives in that area. Even though they live in a traditional way, they are open to visitors or tourists.
Exploring Siberut National Park
Many kinds of activities can be done in Siberut National Park. For example, visitors can meet and learn the culture of Mentawai Tribe. Those people are famous for their unique tattoo and traditional clothes. Moreover, they have a distinct local dance called Turuk and a sacred ritual done by Sikerei (local shaman). With all those interesting things, everyone would get an amusing experience when exploring the park. It is recommended to carry a camera too! The reason is that too many beautiful things are available to capture.
The next popular thing to do in Siberut National Part is trekking, getting around the prime forests by foot. Even though the land is a muddy and slippery, no one feels uncomfortable when conducting such adventure. Still, they must wear proper footwear like boots. During trekking, they might encounter some villagers and their livestock, actually. There is also the time to visit nearby waterfall called Ulukubuk which is located near to Madobak Village. Don't forget to explore the mangroves, too.
In the prime forests of Siberut National Park, tourists are able to witness beautiful local birds. The fact is that there are about 135 species of birds living in those forests. Apart from those birds, visitors can also encounter different kinds of primates including Macaca Pagensis, Siamang, Nosed Monkeys, and Siberut Apes. At the end of the adventure, tourists should go snorkeling in nearby beaches. Visiting Katurei Beach can be a good option, actually.
Nearby Attractions
Singunung Waterfall
Katurei Bay
Kulukubuk Waterfall
How to Get There
The simplest way to reach Siberut National Park is from Padang City. Tourists only need to rent a speedboat and head to Siberut Island. As an alternative, they can take a boat to Sipura Island first, which becomes a common checkpoint before exploring the Mentawai Islands. Next, they should take another boat to Siberut and head to the park right away by any local transportation services.
Where to Stay
Siberut Surf Camp