Jati Beach in Tua Pejat City, Mentawai District, West Sumatra
---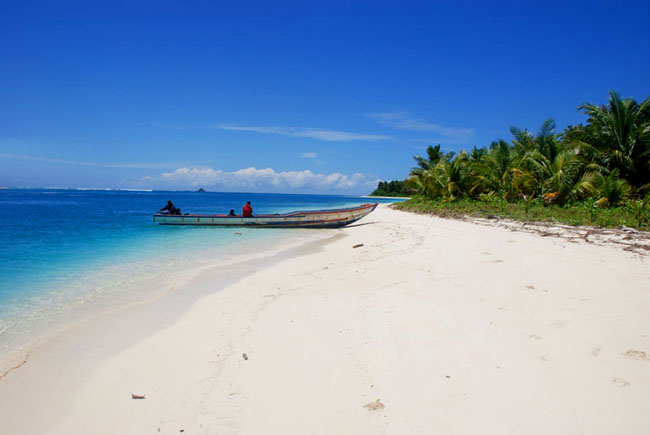 Passionate travelers have heard about the beauty of the Mentawai Islands in West Sumatra Province. Consisting of some stunning islands, it becomes a famous tourist spot for either relaxation or sightseeing. The name of the capital is Tua Pejat City and it is the home of a renowned beach called Jati. This mesmerizing Coast has been considered as an international marine tourism, offering calm waves and pristine nature. It is suitable for family vacations, photography, honeymoon, and beach walking. Due to its beauty, some foreigners even come to the beach to enjoy its nature!
The Nuance
Jati Beach resides about 4 km from the capital of Mentawai (Tua Pejat). During holidays and weekends, the beach is quite crowded and festive. On the other hand, it feels peaceful on working days. Unlike other beaches in Mentawai, Jati offers calmer and safer waves. That means it is not suitable for a particular water sport called surfing. As an alternative, tourists can enjoy swimming and other casual beach activities there. The sand is soft and many coconut trees growing in that area. Even sitting under those trees and witness the sea scenery would be quite relaxing.
Exploring Jati Beach
Marine tourism never ceases to amaze tourists. In this case, Jati Beach becomes the pride of Tua Pejat City due to its serene nuance. For those who love a merry atmosphere, they should come during national holidays and religious events. The reason is that the locals often gather on the beach either to enjoy a vacation or find inspiration. It gives the chance to meet numerous types of people and make some friends as well.
The next common reason to visit Jati Beach is to sit and relax in a Lopo (a small rounded cottage located near to the beach). Hopefully, the local government decides to build more facilities which are similar to it. For families, they can carry some foods, drinks, and snacks. The purpose is none other than to eat together with their family members, helping them to bond and build a stronger relationship. As an alternative, tourists can simply buy some foods offered by local vendors including roasted corn, fresh coconut drink, etc. Those vendors usually gather on the beach during national holidays and weekends.
As for the tip, tourists should have prepared enough money either to buy foods or pay the parking fee, especially for those who come by private vehicle. The fee even becomes pricier during holidays. Despite the fact, Jati Beach never loses its fans. On the other hand, it becomes more popular among travelers (both locals and outsiders). Thanks to the calm waves and stunning sea scenery. Even kids are allowed to swim in the sea as long as they are under parents' supervision.
Nearby Attractions
Tua Pejat City
Mapadegat Beach
How to Get There
For outsiders, the first destination is Padang City. Next, they need to rent a boat to Sipura Island where Tua Pejat City resides. The last thing to do is to ride any local transportation service to Jati Beach. It usually takes about 40-50 minutes depending on the traffic.
Where to Stay
Bilou Beach Villas