Siberut Island in Mentawai District, West Sumatra Province
---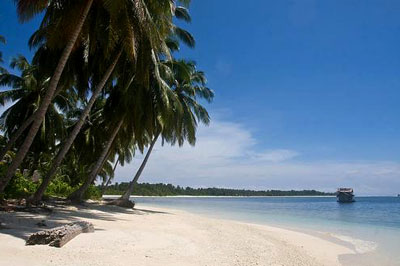 When people hear about Mentawai Island, most of them might recall a beautiful tattoo made by the local tribe. Well, it is more than that. Such stunning small archipelago is considered a hidden gem of West Sumatra. Not only it is the home of Mentawai Tribe, but it also offers many majestic islands for tourists to explore. For example, there is Siberut Island. It is the biggest one among the other islands in Mentawai, in fact. Despite the isolated area, the island has been attracting many tourists recently. No one should overlook Siberut as it is an inseparable part of Mentawai.
The Nuance
In term of administration, the island belongs to Padang Pariamanan and West Sumatra. Being the biggest among the others, it offers a potential adventure to tourists! Not to mention it has pristine and lush nature. The beaches are stunning and they all come with white pure sand. Many coconut trees and other plants are also seen there. When it comes to the waves, they are considered calm so tourists can enjoy either swimming or snorkeling there. For a casual vacation, island hopping is indeed recommended.
Exploring Siberut Island
Siberut Island also becomes the home of Mentawai Tribe, who lives traditionally and refuse any kind of modernization. They can be found in some parts of the island so tourists are likely to encounter them easily. Have no worries, they are quite friendly. In fact, they might offer some foods to visitors and perform beautiful local dances passionately to entertain tourists. In a nutshell, Siberut Island can be a great place for those who love culture and natural beauty.
In the east, southeast, and south part of the island, tourists can find numerous beaches and lagoons. These locations offer calm waves which are suitable for swimmers. On the other hand, the west part of the island offers wilder waves which are suitable for surfers. This explains why Siberut also becomes a good destination for those who love surfing. Visitors can either carry their own surfing board or rent it from the locals. Either way, they can enjoy a good experience there.
The next charm of Siberut Island is its tropical forest which is located in the west part of it. It is also the home of a famous conservation area called Siberut National Park. In that place, tourists can witness numerous types of local animals and plants including birds, apes, squirrels, and many others. As for the tip, it is better to hire a local guide as he can help tourists to get around the island and get some information regarding those creatures.
Nearby Attractions
Siberut National Park
Sipora Island
Sikakap Island
Awera Island
How to Get There
First thing comes first. Tourists should head to Padang City and take a boat to Sipora Island from Muara Port. Next, they can simply take another boat to Siberut Island which may take only several minutes. Once they reach Siberut, they should not depend on sophisticated transportation services because it is rare to find one there. This means tourists should have prepared a good stamina to explore the island. Carrying some snacks and drinks are recommended as well.
Where to Stay
Syahruddin Hotel
Mentawai Surf Camp
Umma Maonu