A Center of Tourism – Mapadegat Beach in the Mentawai Islands
---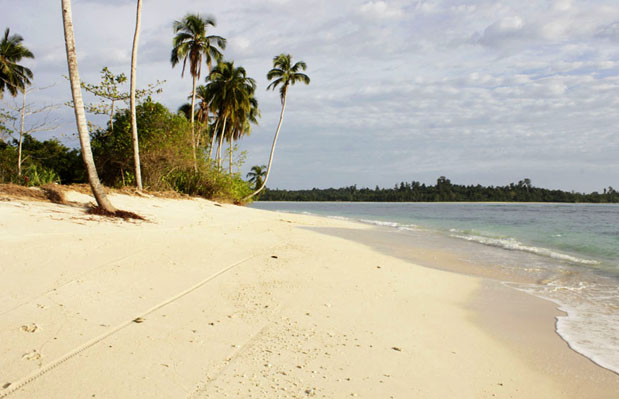 Surfing becomes a common reference when people talk about the Mentawai Islands. Well, the fact is that they can do many other things in such fabulous tourist destination. For instance, there is a well-known beach called Mapadegat. It is as famous as Jati Beach and it resides in Sipura Island as well. That means tourists can reach the beach easily from Tua Pejat City. Apart from its easy-to-reach location, the beach also offers both beauty and unique attractions (local festivals). The locals often do several events there, on which tourists can join as well.
The Nuance
When it comes to the nuance, Mapadegat Beach is considered more festive than its sibling – Jati Beach. The sand is white and the sea looks quite mesmerizing. Even the wind feels so nice and warm. Near to the beach, several coconut trees grow abundantly and some of them are tilted! That means visitors can climb on those trees without difficulties. Today, the local government even provides several facilities near to the beach including inns, souvenir stands, gazebos, and umas (traditional houses). With such benefits, tourists are likely to have a good time there.
Exploring Mapadegat Beach
The common tourism concept in Mapadegat Beach is called village tourist center. Hopefully, the locals work together with the government to improve both facilities and services in that area. The purpose is to attract more tourists to come to that location and increase the local revenue. As for tourists, they can enjoy good times and do any fun beach activities at the same time especially swimming. The calm waves help them to enjoy swimming safely, for sure. For those who want a more casual activity, they can enjoy either beach walking or sunbathing!
At the afternoon, Mapadegat Beach becomes a favorite place among families. Those people come with their kids and play together on the beach. Some of them simply hang out and talk with strangers, accompanied by breezy wind and stunning sunset! Local teenagers are also seen there doing some fun sports like volleyball and football. Tourists can even join those activities as long as they are able to meddle with those people. In a nutshell, Mapadegat becomes a place where tourists can find a new community to enjoy a holiday together.
As compared to Jati Beach, Mapadegat is considered cleaner and merrier. It is suitable for those who want to find new friends and enjoy fun activities together. That doesn't mean they would miss the chance for relaxing. Thanks to the gazebos. Everyone can use such facilities to relax and gather with friends or families.
Nearby Attractions
Tua Pejat City
Jati Beach
How to Get There
Mapadegat Beach is located near to Tua Pejat City. That means tourists only need to head to Sipura Island from Padang City. The best transportation service to use is a speedboat, which they can rent in either Muara or Bungus Port. The fee is pricier during holidays, though.
Where to Stay
Oinan Homestay

Latest News
What do tourists know about Bukittinggi City? Well, most of them recognize it as the capital of West Sumatra Province belongs to Indonesia. Some of them are even aware of its tourism potential, so they keep coming to the region over time, especially during long holidays. Not only it becomes the governmental center of West Sumatra, the city was once the capital of West Sumatra and Sumatra Province! Moreover, in the past, it was called Fort de Kock and known as the birthplace of a famous person named Mohammad Hatta…
---
  Langkisau peak tourism object is located at the edge of the koto Painan with a height of about 500 meters above sea level and it offers an inspiring beauty. Langkisau peak is an area of excellent Pessel which have tourism potential that should be developed, because this area is at a height so that people who visit will be able to see the beautiful scenery and fascinating about the city Painan and Sago District IV of Jurai. At night, will be more lively enchanted by beautiful night scenery that…
---
  Siberut Island Becomes part of Mentawai Islands, Siberut is the largest island at the northernmost and becomes the main important island for Mentawai People.  The Mentawai tribe still maintains the lifestyle and traditions passed down from their ancestors from thousands of years ago. They live in houses locally called 'uma', made from wooden scaffolds which house contains several families each. Siberut is located in the Indian Ocean, approximately 100 km off the west coast of West Sumatra, and separated from the main island by the Mentawai Strait. The island…
---
Sawahlunto is one of provinces in Indonesia, precisely in West Sumatera, Indonesia. This town is located in 95KM Northeast of Padang and surrounded by 3 districts in West Sumatera, which is Tanah Datar, Solok and Sijunjung. Sawahlunto is divided into 4 sub-districts and it has 273,45 km², with populated by 54.000 people. During Dutch civilization, Sawahlunto was popular as coal mining town. After being a death town, during the closing of the mining, Sawahlunto nowadays becomes the growing city with multi-ethnicity inside the community, and awarded as the best old…
---